First Visit
TLC for Little Smiles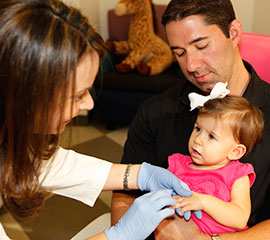 If this is the first time your child has ever been to the dentist, our main priority will be familiarizing him or her with the sights and sounds of our office. Your child will meet Dr. Louca and our friendly staff, tour our office, which includes a SuperSlide Playscape, and then we'll examine your child's teeth. For children 3 and older, the hygienist can clean their teeth at this visit, as well. It's essential that your child has a positive experience, so we'll never push treatment or put your child in an uncomfortable situation.
When should my child first see the dentist?
The American Academy of Pediatric Dentistry recommends that children establish a dental home within 6-months of eruption of the first tooth and no later than age one. At Coppell Dentistry for Kids, we can begin seeing children as early as six months for what we call a "baby check." This initial appointment will establish a dental home for your child. During this visit, Dr. Louca will give you dietary and hygiene instructions, look for proper tooth-development, and implement a preventive care plan for your child.
Tips for Parents
Don't over explain – inform your child, but refrain from making false promises or raising their expectations. If you're nervous about the visit, then the less you say the better.
Use only positive, kid-friendly terms and avoid words like needle, scraper, or hook that could create unnecessary anxiety.
Encourage play behaviors that mimic what will happen at the dentist's office, letting your child play both the dentist and the patient.
Let your child know that our office keeps teeth healthy and our team cares about children.
Dental Insurance Benefits
Dr. Louca is in network with MetLife and Delta Dental Premier. We accept most major dental insurance plans and will gladly file claims from any insurance provider and supply the necessary information to maximize your benefits. If you have questions about your child's specific coverage, please contact your insurance provider for details. The treatment we recommend will be based solely on the needs of your child and will not be influenced in any way by your insurance policy. So we have adequate time to verify your benefits, please provide us with all of your insurance information prior to your first visit.
New Patient Forms
To help us serve you better, please print, review and sign the following patient forms before your first visit to our office:
New Patient Forms Consent For Minors Consent for Alternate Caregiver Notice of Privacy Practices