Restorative Dentistry for Kids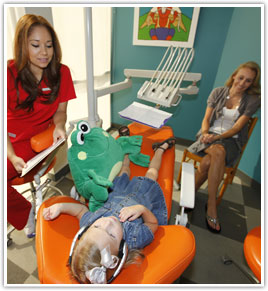 Dr. Louca's ultimate goal is to prevent dental issues from arising, but cavities and injuries are sometimes inevitable. We offer restorative services to repair young smiles to optimal function and appearance. A child's smile plays a pivotal role in his or her self-confidence, so we always consider the aesthetics of restorative dentistry and offer modern techniques.
Teeth Whitening Kits
Take-home teeth whitening can remove stains caused by foods, beverages, medications, and fluorosis.
Tooth-Colored Fillings
Made from composite resin, tooth-colored fillings contain no mercury and will blend seamlessly with your child's natural tooth structure.
Composite & Stainless Steel Dental Crowns
To repair broken, decayed, or cracked teeth, we use composite resin (white) or stainless steel crowns. Dr. Louca will discuss your options and help you choose the best solution for your child.
Pulpotomy (Children's Root Canals)
When the pulp or nerve of the child's tooth becomes diseased, a pulpotomy, or a children's root canal, may be needed to alleviate pain or prevent premature loss of the affected tooth.
Space Maintainers & Oral Appliances
To help your child's adult teeth ease into their ideal location, we can provide space maintainers and other interceptive orthodontic techniques. Oral appliances to curb grinding and prevent injuries on the playing field are also recommended for some children.