Pediatric Dental Services
Specialized Dentistry for Special Smiles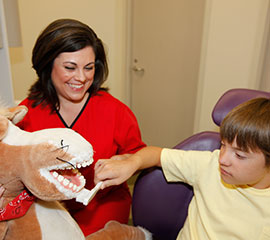 At Coppell Dentistry for Kids, we treat kids like kids, and we specialize in the unique dental challenges that kids face. Parents can begin bringing their children to our practice as young as six months old, and we continue seeing kids well into their late teen years. At our pediatric dental office, we build healthy foundations for smiles that last a lifetime.
We also provide the same exceptional pediatric services for children who have special needs. Many special needs patients are more susceptible to common issues like gum disease and cavities due to their inability to properly care for themselves, and others need to take medication that can negatively affect their oral health as well. At Coppell Dentistry for Kids, our team wants to form a good, comfortable relationship with you and your child. Sedation dentistry and general anesthesia are available if needed, and we can work closely with you to develop a comprehensive lifelong plan that meets your child's needs and keeps their smile bright.
Dr. Louca has experience working in both hospital and private settings since 2001 and offers an array of pediatric dental services. We offer four levels of sedation for kids to help anxious or medically compromised children relax, and our team is well-versed in all aspects of children's dentistry. You can rely on Coppell Dentistry for Kids for all phases of your child's dental care.
Our pediatric dental services include:
Start making great memories with us today by calling Coppell Dentistry for Kids. Our pediatric dental practice provides kids in the Coppell, Irving, Las Colinas, Flower Mound, Valley Ranch, Lewisville and surrounding areas with healthy, happy smiles built to last a lifetime.