Sedation Dentistry
Relaxing Dental Visits for Kids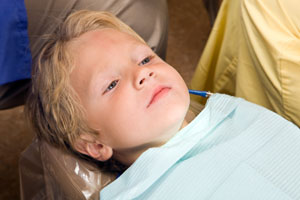 As a pediatric dentist, Dr. Louca understands that most kids are anxious about trips to the dentist. We use gentle methods and techniques to help ease anxiety, but sometimes we see children who are so fearful that no amount of calming will allow the treatment to be completed. For these select few, as well as medically compromised children, Dr. Louca may recommend sedation dentistry as a treatment option. The majority of our patients don't need sedation, but for those that do, our methods are safe, effective, and have been designed specifically for the needs of children.
Four Methods of Sedation
At Coppell Dentistry for Kids, we can tailor the amount of sedation your child receives to his or her unique needs. Dr. Louca has over ten years of experience as a specialist in pediatric dentistry, and she works closely with certified anesthesiologists for your child's safety.
Methods of sedation dentistry for kids include:
Nitrous Oxide (commonly known as laughing gas)
Oral Sedation (anti-anxiety pill taken by mouth)
IV Sedation (administered by an anesthesiologist)
General Anesthesia (performed in a hospital setting)
With four methods of sedation, we're able to cater more precisely to your child's needs. All of our methods are widely used and approved by the FDA and the American Academy of Pediatric Dentistry for use with children. In addition, our team is trained in sedation dentistry and will closely monitor your child throughout the appointment.
Care for Special Needs Children
Children with special needs, such as those with mental or physical disabilities, may require sedation to complete their dental visits. We love helping these children, and we understand the unique challenges that they and their parents face. Dr. Louca has received advanced training in dental care for special needs children, and her compassionate approach will result in a positive experience for all parties.